Top rides in panoramic lifts made by GBH Design GmbH
They are not only of attractive design, but also a technical masterpiece: the panoramic lifts made by GBH Design. External lifts that are exposed to ice, snow, wind and severe heat have to guarantee perfect operation. All lifts must comply with the EN 81 and national regulations.
Only high-quality materials are used in order to guarantee durability and to withstand all sorts of weather conditions. The highest free-running lift in the world, the Bailong Lift in the Wuling-Yuan area situated in the Chinese province Hunan is an impressive example for that. This lift was built in 2001 and modernised in 2014 by GBH Design; its 3 double-decker glass cars can transport almost 200 persons in 5 m/s to the observation deck at a height of 330 m.
Blackfriars Bridge, London
As a partner in the Thames Tideway Tunnel project with estimated costs of 4.2 billion pounds, GBH Design and her partner Elevator Planning UK Ltd were commissioned to undertake the planning, manufacture and installation of a free-standing circular external glass lift. The huge underground tunnel for the London sewage system and the Underground following the River Thames will be 25 km long, up to 66 m deep and has a diameter of 7,2 m.
The glass lift transports 13 persons and serves two open stops over a travel height of 5.45 m, and it is fully DDA-compliant. The new Underground stop Blackfriars Road Bridge can be accessed from Paul's Walk thanks to the new lift.
A very special feature of the lift structure is the six sections, each containing 29 copper nickel fins, secured in various positions so as to deflect the sunshine from the glass lift shaft, keeping the temperature of the glass shaft and car down.
GBH delivered the one-piece-shaft construction made of V4V  in one piece to the Silver Town Dock, where it was loaded on a vessel and transported on the Thames to Blackfriars Bridge. A pontoon crane lifted the construction into the pit. 
The lift shaft was positioned with the help of GPS and laser surveying instruments' highest precision grade. After that the lift car could be lifted from above into the lift shaft.    
In March 2017 the lift system was handed over to the end customer, the City of London, who was extremely satisfied with the high quality and the sophisticated design of the lift system.   
---
Technical data:
1 external lift
Rated load 1000 kg or 13 persons
2 stops
Travel height 5.46 m
Hydraulic drive
Rated speed 0.6 m/s
Built in 2016


























Bailong Lift, Zhangjiajie, China
The Bailong lift, the world`s highest free-running outdoor elevator, is situated in one of China's most beautiful natural reserves, in the Wulingyuan area in the Province of Hunan.
The observation deck can be reached via an elevator with three double-decker glass cars, designed and manufactured by GBH Design. In the course of modernisation measures in 2014, larger double-decker cars and more powerful engines replaced the old ones. This allows visitors to reach the observation deck even more quickly. In 2015 a total of 3.5 million tourists were able to admire the amazing mountain scenery by travelling with GBH lifts.
---
Technical data:

Group of 3 lifts
Rated load 4,900 kg
2 stops
Travel height 330 m
Rope drive 2:1
Rated speed 3.0 m/s and 5.0 m/s
Built in 2001, modernized in 2014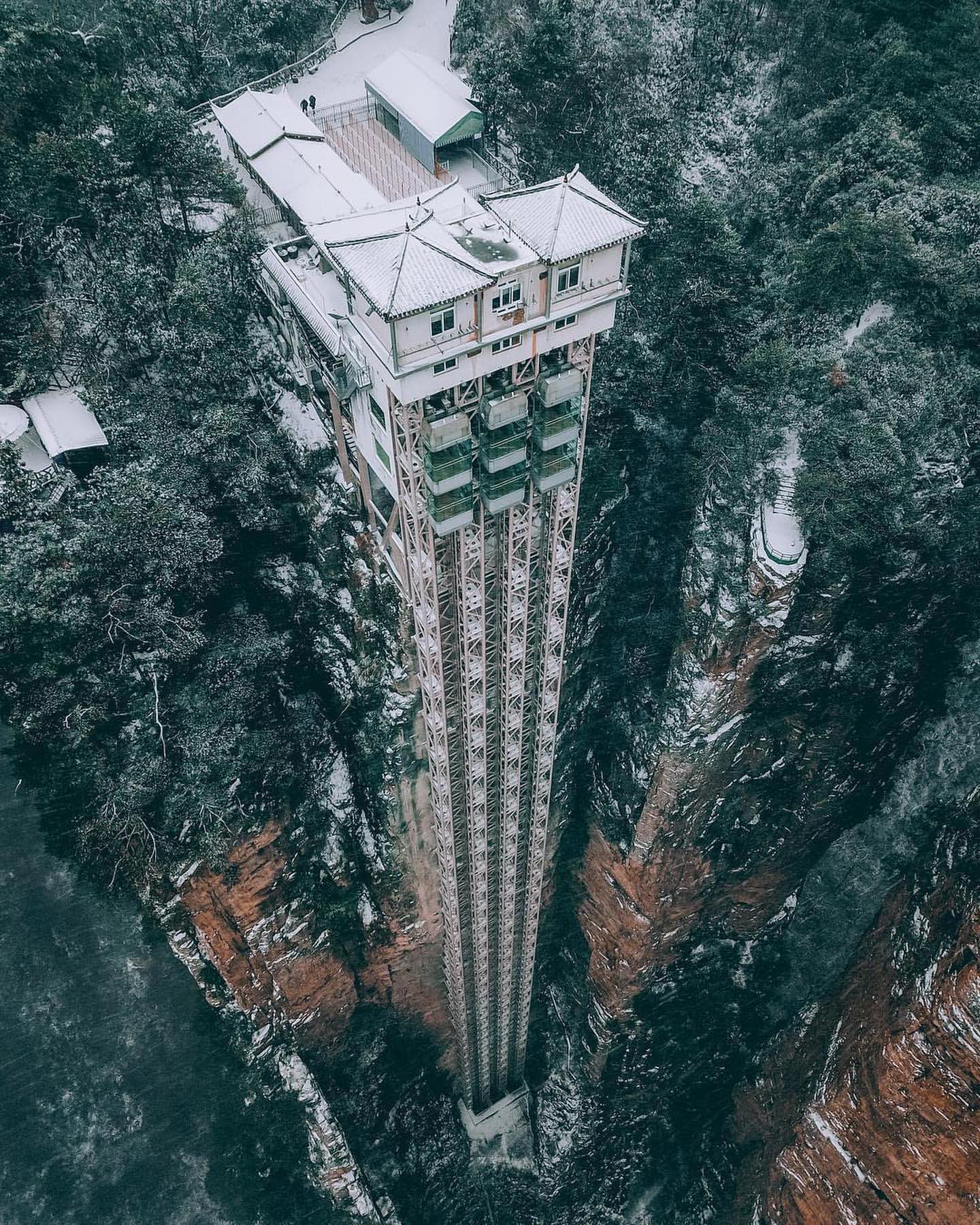 Pyramidenkogel, Carinthia
The new, highest wooden viewing tower in the world on top of the Pyramidenkogel had been opened to the public on 20st June 2013 after a construction period of 18 months.
This spectacular look-out was designed by Klaura, Kaden + Partner, architects, from Klagenfurt and the Studio Lackner + Raml from Villach.
The almost 100 m high tower is a spiral wood-and-steel construction and offers a breathtaking view on the lakes and mountains of Carinthia from its uppermost platform.
We were commissioned by the community of Keutschach to design and built a free-running, circular glass lift inside the tower. The centrally running glass car takes 20 passengers up to the 71 m high platform in 23 seconds. The lift is provided with 7 stops, its access is absolutely barrier-free. An outstanding feature for those, who are keen on a special kick, is the 120 m slide built around the lift.
---
Technical data:
1 Lift system
Rated load 1500 kg or 20 persons
7 Stops, 9 accesses
Travel height 71 m
Traction drive, gearless
Speed 3.0 m/s resp. 1.6 m/s
Built in 2013




























The University of Vienna had been founded in 1365 by Duke Rudolf IV.
It is the second oldest university in the German speaking cultural area, one of the largest universities of Central Europe and Austria's largest teaching- and research institution.
In the course of refurbishment works for safety's sake and in compliance with the strict requirements for the protection of historical monuments the inner courts 3 and 4 were provided with an extra staircase and a glass lift.
Architect and client wanted to have a modern, transparent outdoor-lift system that would fit in with the design of the staircase.
For the sake of transparency, functionality and openness we opted for a free running glass lift and lift doors with under-floor door drive.
The two lifts were completed in 2011 and 2012.
---
Technical data:
2 Lift systems
Rated load 1000 kg or 11 persons
4 Stops
Travel height 20 m
Gearless
Speed 1.60 m/s
Built in 2011/2012
Photos: Alexander Arnberger






















Fortress Königstein, Dresden
Amidst the bizarre rocky mountains of the "Sächsische Schweiz" and visible from afar the Fortress Königstein towers on a 274m high table mountain overlooking the valley of the river Elbe.
Due to its scenic attractivity Königstein has become a magnet for tourists.
GBH constructed and installed a free-running glass lift system with radio control and safety class K6.
Power supply is realized by means of non-contact inductive conductor rails. A special gondola was designed and installed at the roof of the car for the rescue of passengers in emergencies, which can be made ready for use easily in no time, if necessary.
Despite the number of technical features, the transparent design of the elevator system was always of particular importance.
---
Technical data:
1 Lift system
Rated load 1800 kg or 24 persons
3 Stops
Travel height 44 m
Continuous drive – without transmission
Speed 1.60 m/s
Built in 2005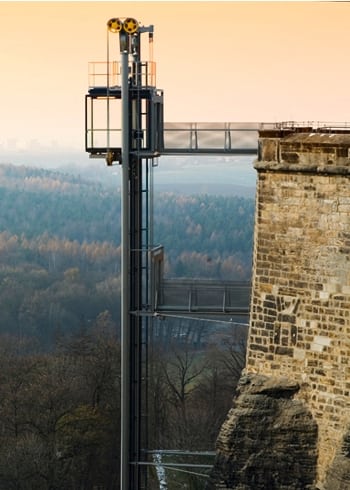 In the winter sports resort Klingenthal/Vogtland, where the world's elite of winter sport athletes meets, we developed a lift system for the ski-jump tower.
By satisfying the extremely high demands regarding technology and fancy design we once again proved our ability to meet customer requirements even under the most difficult circumstances.
In order to provide resistance to weathering all materials are galvanised and made of V2A. Readiness for operation is to be ensured up to temperatures of -15°C.
---
Technical data:

1 Free-running lift system
Rated load 1000 kg
2 Stops
Travel height 31 m
Adjacent entrances with frequency-controlled drum drive
Speed 0.63 m/s
Built in 2006